How to Take a Good Selfie? This is the question asked by most of the people. Well! Mostly girls are good at taking perfect photos. But, the question is – How to take a poses as if clicked by an experienced photographer? This post will definitely teach you how you can easily click different poses using different angles.
Share This> [DISPLAY_ULTIMATE_SOCIAL_ICONS]
How to Take a Good Selfie?
Facebook and Instagram have increased the desire to look beautiful and the best. It has also increased the photography craze among the people. The question is – What are the poses you can try to take a good selfie? Well! There are many poses which you can try to look beautiful, cute or hot.
Also, many persons don't know that there are many angles you can try to capture a good pose. We have tried to include all the latest sposes, angles and selfie tips you can try in 2019. Read>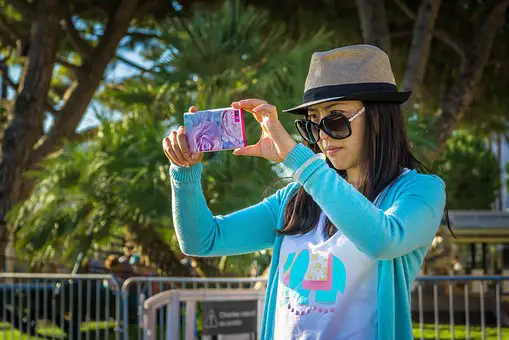 Selfie Poses
There are several poses you can try to look the way you want. Sometimes, you want to look hot, sometimes cute, and want to try other poses. We have explained a list of poses you can try.
Hot Poses
Every girl wants to look hot and beautiful. For these types of poses, it is the best to copy poses from the models and actors like Priyanka Chopra, etc. The rule for hot poses is Confidence. Try to pose a confident, brave and tough look. Look in the camera in confidence with no smile on your face. You can also wear stylish glasses to look hot in the pose.
Mirror Poses
Mirror poses is a great way to highlight your phone in your selfies. For these selfies, try to capture your photo in enough light. Otherwise, the photo didn't look good. Smiling face goes well with these selfies. To take a good mirror pose – don't look at the camera of your phone, but, look in the mirror and click.
Cute Poses
If your cheeks are chubby, then you can opt for cute poses. A very little smile which doesn't show up your teeth goes well with cute poses. If your face is not round, then these poses will not look good over you.
No Make Up Poses
Fresh face in the morning, looks good. You can click best selfies in the morning time. To take a perfect pose, you always don't need to wear make-up. No make-up poses are the best to show your natural beauty and praise yourself whatever color your skin has. Here, you can pout, you can capture a pose with your tongue out.
Selfie Angles
To take a perfect selfie, you can try experimenting with different angles. There are several angles for selfies you can try. These are –
Chin-up / Chin-down
Chin-up helps you look bold and confident. Moreover, Chin-up with no smile helps you capture hot selfies. However, when you chin-down with eyes looking to floor, then you can look gorgeous.
Head-up / Head-down
Similar to chin-up and chin-down, head-up and head-down also creates the same effect. When your head is down then, you can highlight your eye-liner, your eye-shadow. When your head is up, you can highlight your eyes with different facial expressions.
Phone Tilting
You can also experiment with your looks, by titling your phone, to capture selfies at different angles. You can tilt your phone at 30 degrees, 45 degrees, 60 degrees, and capture selfies. The objective of titling the phone is to capture photographs in different face cuts.
Looking away
Mostly guys opt this angle, where they look away from the camera in different direction. As if they are ignoring the person clicking their selfie. Looking away gives a random look and look best many times.
Selfie Tips
There are several useful selfie tips which we want to share with you which will help you to take a perfect selfie. These are:-
Clear the Background clutter before taking a selfie.
Click to highlight best in you. For examples, if you have nice hairs, show-off your hairs. If you have good muscles, show that.
Wear Stylish Goggles to complement your face. Especially, if you're on a holiday, then stylish glasses do your most of the work.
Take help from someone to capture your selfie from some distance.
Experiment with lights – sunlight, artificial lights,…etc.
Choose a good location to capture a selfie.
Add effects to your selfies with the help of a sieve and other materials.
We hope that you liked this post on "How to take a good selfie". Please, subscribe to the blog to receive notifications of the published posts quickly when published. Also, don't forget to like, share (Facebook, Twitter,…) and comment below.