If you want to share GIF on Instagram, then you can't. This is because Instagram don't support GIF format. The best way out of this problem is – Convert GIF to Video using software or apps. There are several apps or software available online which helps to carry out this conversion. Read>
Share This> [DISPLAY_ULTIMATE_SOCIAL_ICONS]
Best GIF to Video Converters 2019 for Desktop
Many social media platforms don't allow you to share GIF. Therefore, you require to convert GIF to video file before sharing it to various social media platforms. Furthermore, this conversion is very easy and you can also edit GIFs according to your wish.
In addition, You can easily download GIF from the web and carry out conversion. Then, share on various social media platforms. There are many software which are compatible with MAC and Windows which help to carry out this conversion. The latest and most popular software are as under.
Wondershare Filmora helps to convert GIF to Video & suitable for Mac as well as Windows. Apart from conversion, this includes several editing features like crop, merge, rotate and other adjustments. In addition, it supports almost all video file formats like WMV, MP4, and MKV etc. So, you can easily convert GIF into any video file format you like.
Movavi Video Converter
Movavi Video Converter helps to convert GIF to video instantly. It supports almost all media formats alike Wondershare Filmora, including AVI, MKV, MOV, and MP4 etc. In addition, you can carry on with the conversion without losing the original quality of your videos. This tool is compatible with a wide range of devices like – Mac, Windows, Android, iPhone, and iPad etc.
Converter Lite
Converter Lite is an absolutely free video conversion software. Here, with this software, you can easily convert GIF to video. It supports a wide variety of video file formats like – MP3, MP4, MKV, AVI, FLV, and WMV etc. It works fine with Windows 7, Windows XP and Windows Vista. Moreover, this software is available in different languages like – English, Spanish, French, Chinese, Russian, Dutch, and Japanese etc.
Best GIF to Video Converters 2019 for Smartphone
There are several apps to carry out the conversion of GIF into several video formats. These apps are available either on iTunes or Playstore for download from your smartphone, iPhone, iPad, etc. Best apps you can try out are –
GifVid
GIFVID is an app available on iTunes to convert GIF to Videos and vice versa. This app is very easy to use and it easily carries out conversion using different video file formats. In addition, this app offers several video editing options. It supports all iOS devices like iPad and iPhones.
GIF2VIDEO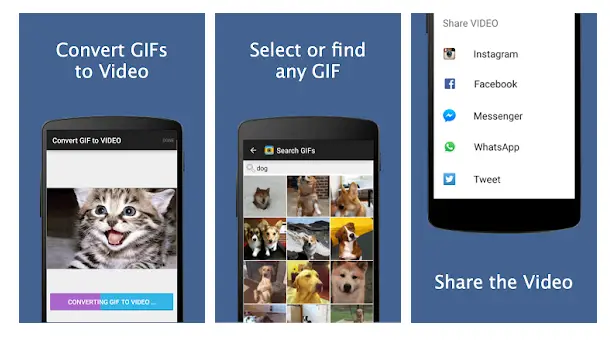 GIF2VIDEO is an Android app available on Google Play Store. This app easily carries out the conversion of videos to GIF. Here, with this app, you can easily choose GIF you want to convert from your phone's gallery. Then, carry out conversion with just a click. After the conversion is finished, you can easily share the video with your social networks like – Facebook, Instagram, etc.
Gifshare is an app available on iTunes for conversion of GIF to Videos. Here, you can easily download GIfs from the web. Furthermore, you can edit
GIFs – crop, scale, speed up or slow down. Then, convert it to video and share it to Instagram.
We hope that you like the post on "Best GIF to Video Converters 2019 for Desktop and Smartphone". Please subscribe to the blog to receive daily updates and notifications about the published posts. Also, like, share and comment below.